Enterprise switching, routing & wireless

We also furnish network equipment to customers including enterprise switching, routing & wireless equipment. SLTS enterprise networks solutions help you accelerate innovation, reduce cost and complexity, enhance security and benefit from the full value of mobility.
Enterprise Switching & routing

Cisco and HP offers a complete family of Ethernet routers and switches for enterprise, data center, and service provider networks. With industry-leading performance, reliability, and scalability features, these routers enable highly available and secure networks from the edge, to the core.
Enterprise wireless LAN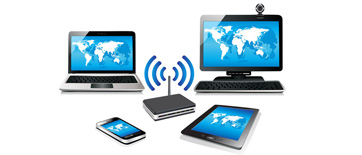 Enterprise mobility is no longer a luxury. It is increasingly a requirement for productivity at every stage of an organization. All employees benefit from being able to connect and do business from anywhere, and organizations are able to change more rapidly to meet business demands. SLTS enterprise wireless solution helps mobile users experience the same accessibility, security, quality-of-service (QoS), and high availability currently enjoyed by wired users.